By Al Mik
Please join us for the launch of Playful by Design: Free play in a digital world
So often the digital world of children is stated in binaries – on or offline, good or bad actors, opportunity or harm – but the lived reality of children is more complicated. Where on and off can be seamless and simultaneous, too much of a good thing can be bad, or something meant for one purpose can be hacked for another, sometimes with harmful outcomes and sometimes joyous.
On 4th November, the Digital Futures Commission will launch its new report, Playful by Design.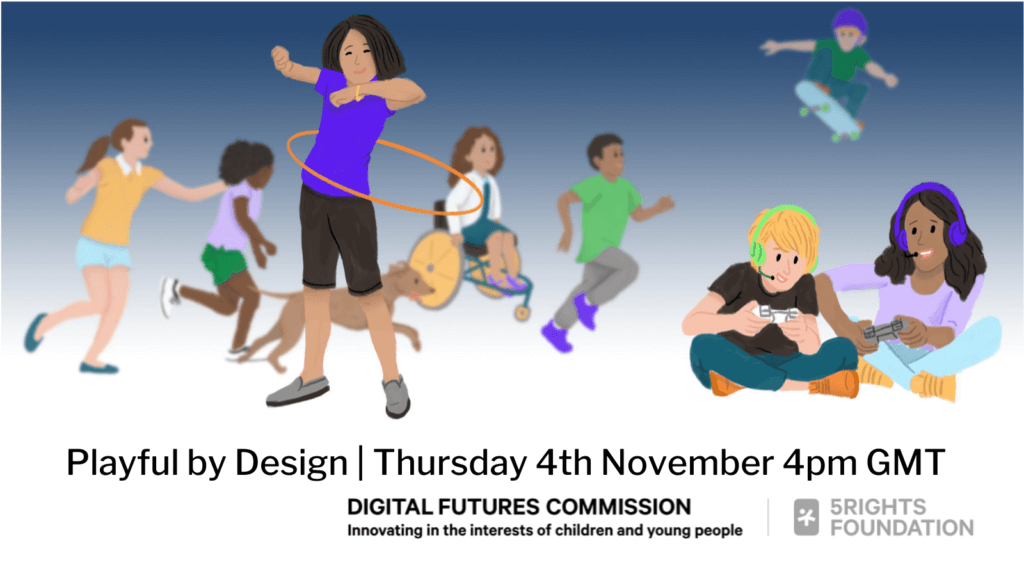 The report calls for an ambitious redesign of children's opportunities for play in the digital world. It identifies the qualities of free play that could and should be enriched and expanded to make play online more supportive of children's needs, voices and rights. It highlights acts of play such as Zoom hide-and-seek or tag.
A vision of free play online necessarily involves identifying the features of the online world that support or, too often, routinely intrude on or jeopardise the possibility of free play. The authors of Playful by Design are clear that play online, just like play offline, can and probably should be a mixed economy – the spectre of play as a narrow range of pre-determined commercially driven outcomes is disheartening.
Event attendees will hear from children and young people how they view play in the digital world and what it means to them. In response to their views, Baroness Beeban Kidron – 5Rights Foundation, will then chair a discussion with:
Professor Sonia Livingstone OBE – LSE, DFC lead researcher and report author
Sonia is a professor in the Department of Media and Communications at the London School of Economics and Political Science. She has written 20 books on children's online opportunities and risks, including "The Class: Living and Learning in the Digital Age" and "Parenting for a Digital Future". Sonia has advised the UK government, European Commission, European Parliament, Council of Europe and other national and international organisations on children's rights, risks and safety in the digital age.
Professor Mimi Ito, University of California – Irvine
Mimi Ito is a cultural anthropologist, learning scientist, entrepreneur, and advocate for connected learning. She is the director of the Connected Learning Lab and Professor in Residence and John D. and Catherine T. MacArthur Foundation Chair in Digital Media and Learning at the University of California, Irvine. She is also co-founder of Connected Camps, a non-profit providing online learning experiences for kids from all walks of life. Her co-authored books include Hanging Out, Messing Around and Geeking Out.
Having designed communities for youth collaboration, learning and play, Mimi will share what has she found from her theory and practice that can help design free play in a digital world.
Dr Tim Gill, Rethinking Childhood, Author of Urban Playground
Tim Gill is an independent scholar, writer and consultant on childhood, and a global advocate for children's play and mobility. Tim's book Urban Playground: How child-friendly planning and design can save cities was published by RIBA in 2021, and he is also the author of No Fear: Growing up in a risk averse society. Tim is a Design Council Ambassador and a former director of the Children's Play Council (now Play England).
Tim will offer his views on how free play can be designed into the everyday physical world and consider what those designing the digital world can learn from the experiences of the adventure playground movement.
Dr Sangeet Bhullar, Executive Director, WISE KIDS
Dr Sangeet Bhullar is the founder of WISE KIDS, a non-profit company that has worked with thousands of young people, parents, teachers, other professionals and community groups to develop their digital literacy and competence, sense of agency and wellbeing so they can thrive in a connected world. She believes that online access, digital citizenship education (which promotes critical thinking and positive online participation) and wellbeing is vital if society is truly to harness the benefits of a connected world.
Sangeet will speak to some of the opportunities and risks of the digital environment – what are her priorities for policy and education, and where does play fit into children's digital lives?
The event will be followed by a Q&A with attendees.

We hope you're able to join us.

Sign up for the event here.
Read more about our work on play here.